After countless remixes and guest appearances,
DENEIR
releases the his debut solo recording. The 7 track
Nowhen EP
curves acoustic sounds into new electronic shapes. Features a rare remix by
Warp Records
legends,
Autechre
.
Washing hither and thither through the rip tide of the Los Angeles music scene,
Rare Grooves
was formed out of break up of The Widow Babies. Guitarist
Danny Miller
and drummer
Tabor Allen
launched themselves into fresh ideas and new singing duties, arriving very quickly at a recording date with their hero and bass master
Mike Watt
. Produced by long-time collaborator
Chris Schlarb
, the songs are saturated in bay city sunshine and breezy palm tree shade.
"Song For Charles Rocket" is the high energy, debut recording from Los Angeles-based free jazz ensemble, Destroyer Of Brains. The band features members of
I Heart Lung
,
The Widow Babies
,
Breakestra
and
Ventriloquists
.
In a pastoral field, Will Donaldson's
Next To Last Fest
brought together iconic hip-hop duo
Themselves
, beat-maestro
Daedelus
and transcendent singer-songwriter
Diane Cluck
with psychedelic rock collective
Dark Meat
, Elephant Six's
Circulatory System
and three
Asthmatic Kitty
artists:
Jookabox
,
Liz Janes
and
Chris Schlarb
.
Chris Schlarb Quintet- Comma / Nathaniel Frank and the Wisconsin Magic (SAA1148)
In his first release since 2007's Twilight & Ghost Stories, Chris Schlarb presents his jazz quintet alongside the analog warmth of fusion trio Nathaniel Frank and the Wisconsin Magic.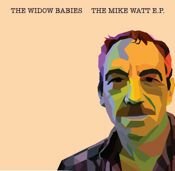 The debut release from upstart Los Angeles band
The Widow Babies
could have been alternately titled, "The Lamb Lies Down In San Pedro". This six song, 13-minute concept album features a brilliantly conceived story that pits
Minutemen
bassist and erstwhile folkhero
Mike Watt
against a world domination-minded vampire who looks like
Abraham Lincoln
.
I Heart Lung- Between Them A Forest Grew, Trackless and Quiet (SAA1146)
A collection of live recordings and trio improvisations with Create (!) saxophonist Peter Chan, Between Them A Forest Grew… finds the group performing songs from their debut recording Blood & Light, the split 12″ with Castanets as well as previously unreleased compositions. Recorded from 2004 through 2007, Between Them A Forest Grew, Trackless and Quiet is the document of the duet in constant motion. I Heart Lung explores a wealth of improvisational material in addition to studio tracks, old and new, including a sketch from the band's forthcoming album Interoceans.

A timeless collection of holiday cheer. Recorded in one afternoon and mixed in another, this five song EP includes four Christmas standards as well as the

I Heart Lung

original, "Santa Claus Vs. Dracula." An album destined to be included in the popular holiday lexicon with

Frank Sinatra

,

Nat King Cole

and

King Crimson

, put this on at your next ornament exchange or Jello-swap and watch eyes, hearts and lungs fill up with the Christmas spirit!
ellul- remixes (SAA1142)
ellul's massive, multilayered debut is born again in a series of specially commisioned remixes. Thavius Beck chops and screws "Esophagus" while Italian electronic duo Mickey Eats Plastic reconstruct "Freedom." Fellow San Francisco-based artists Radius and Bookworms take completely original turns on their respective remixes while Siamese Sisters surmount a difficult task in re-approaching the delicate and powerful "Fragrance." A trio of stunning remixes from Blevin Blectum, Deneir and Heezen with Xn. round out an impressive remix EP.

Recorded in vaulted hill top church, an industrial warehouse, a community center and a living room, up and down the California coast, over the course of five months,

ellul

's self titled debut is surprisingly established. Produced and engineered by

Chris Schlarb

the group added his electric guitar to contributions from

Adam Garcia

(

Timonium, belltower

) on drums and

Anthony Shadduck

(

Nels Cline, I Heart Lung

) on bass. Dueling live/programmed drum patterns, shimmering guitar distortions and stunning choral harmonies are unearthed upon repeated listens.

ellul

have crafted a stunning debut album that reveals heavy doses of progressive electro-acoustic musicianship with each spin.