The Widow Babies- The Mike Watt E.P. (SAA1147)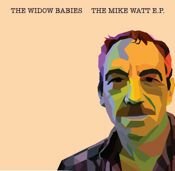 ADD TO CART [CD+MP3 $7.99]
ADD TO CART [MP3 4.99]
The debut release from upstart Los Angeles band The Widow Babies could have been alternately titled, "The Lamb Lies Down In San Pedro". This six song, 13-minute concept album features a brilliantly conceived story that pits Minutemen bassist and erstwhile folkhero Mike Watt against a world domination-minded vampire who looks like Abraham Lincoln.
Produced and recorded by Asthmatic Kitty recording artist Chris Schlarb, the album features tightly focused songs that expand into Brazilian and West African rhythms while the raw energy hints at early influences of The Urinals, Die Monitr Batss and yes, the Minutemen.
Formed in January 2007, The Widow Babies got their start playing DIY venues around Los Angeles and Orange Counties. The four piece bands includes members Danny Miller (guitar), Tabor Allen (drums), Elise McCutchen (vocals), and Neal Marquez (bass). The group met producer Chris Schlarb during the filming of a Sean Carnage production and, becoming fast friends, made plans to record in Long Beach, CA. The group worked quickly and in one eight hour recording session laid down the entirety of The Mike Watt E.P.
Credits
All songs written by The Widow Babies
Produced, recorded and mixed by Chris Schlarb
Design and Artwork by Danny Miller
Track Listing
01. Mike Watt Created The Universe With A Bass Solo [mp3]
02. Vanity Thy Name Is Lincoln
03. Whatchu Thinkin' Vampire Lincoln???
04. Evil Triumphs Over The Awesome Powers Of Kayak
05. In Which Watt Wins His Hands Back And Basses A River Into Existence
06. Epilogue
Artists
Aaron Roche
Soul-Junk
Tim Hinck
Uncategorized