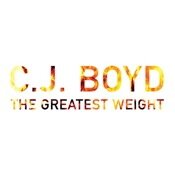 Produced and recorded by
Sandro Perri
of
Constellation Records' Polmo Polpo
,
The Greatest Weight
is bassist C.J. Boyd's finest work.
C.J. Boyd
fashions beautiful, rolling compositions from his looping electric bass and multi-tracked harmonica which producer Perri turns into a hundred year old pump organ. Both ambient and inherently rhythmic
The Greatest Weight
finds optimism in simplicity. A welcome rest for ears weighed down by excess.