C.J. Boyd- The Greatest Weight (SAA1135)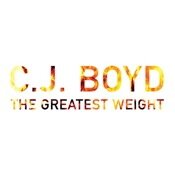 Produced and recorded by Sandro Perri of Constellation Records' Polmo Polpo, The Greatest Weight is bassist C.J. Boyd's finest work.
C.J. Boyd fashions beautiful, rolling compositions from his looping electric bass and multi-tracked harmonica which producer Perri turns into a hundred year old pump organ.
Both ambient and inherently rhythmic The Greatest Weight finds optimism in simplicity. A welcome rest for ears weighed down by excess.
Layout and Design by Aaron Tanner
Landscape photography by Scott Liddell
Track Listing
01. Bonfire
02. Go Love Some More
03. Thoughts of Youth [mp3]
04. Here's To Hybris
05. Dynamos/Scrumpin'
Press
"The Greatest Weight is a solo acoustic bass album for the rest of us. Okay, so Boyd's cheating a bit, he layers multiple tracks of his playing to create lush, liquid music that sounds more like the quietest moments in Talk Talk's last two albums than the part of an Anthony Braxton concert where Mark Dresser goes it alone. But this is heavenly stuff, an organic palate cleanser for Kranky-ophiles and adorers of the deep, dubbed-out techno of Pole and Porter Ricks."- Tiny Mix Tapes
"Not many albums have instrumentation solely provided by electric bass and harmonica, so credit goes to C.J. Boyd for even attempting the idea to start with. But beyond that there has to be good music, and happily Boyd delivers on The Greatest Weight, an album which recalls the mysterious chill of performers like Lull or the underrated Crib, as well as more conventional but no less gripping bands like Codeine or early Low in their emphasis on the low rather than the high end."- All Music Guide
"In the great tradition of Terry Riley's 40-year-old debut, "Reed Streams," producer Sandro Perri (of Polmo Polpo) twists, turns, and stretches Boyd's harmonica to the point where it takes on a new life, sounding much like Riley's pump organ… It's both rhythmically busy, yet harmonicly simple and never boring. I have a theory that the lower bass tones and harmonics, coupled with the distorted harmonica may actually be more soothing than listening to screaming guitar solos from the other end of the sonic spectrum."- Foxy Digitalis
"Simplicity can be a really incredible thing…particularly when it is utilized to make something credible and constructive. The Greatest Weight is a different sort of album, created from a different sort of perspective… both thought provoking and very current."- Baby Sue