I Heart Lung- Between Them A Forest Grew, Trackless and Quiet (SAA1146)
A collection of live recordings and trio improvisations with Create (!) saxophonist Peter Chan, Between Them A Forest Grew… finds the group performing songs from their debut recording Blood & Light, the split 12″ with Castanets as well as previously unreleased compositions. Recorded from 2004 through 2007, Between Them A Forest Grew, Trackless and Quiet is the document of the duet in constant motion. I Heart Lung explores a wealth of improvisational material in addition to studio tracks, old and new, including a sketch from the band's forthcoming album Interoceans.

A timeless collection of holiday cheer. Recorded in one afternoon and mixed in another, this five song EP includes four Christmas standards as well as the

I Heart Lung

original, "Santa Claus Vs. Dracula." An album destined to be included in the popular holiday lexicon with

Frank Sinatra

,

Nat King Cole

and

King Crimson

, put this on at your next ornament exchange or Jello-swap and watch eyes, hearts and lungs fill up with the Christmas spirit!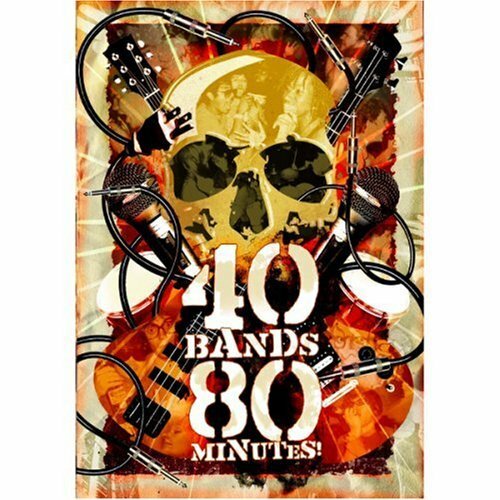 THE DOCUMENT OF THE NEW L.A. MUSIC SCENE!
One night. Forty bands. Two minutes to make their mark. In the tradition of underground rock movies like
THE DECLINE OF WESTERN CIVILIZATION
and
URGH! A MUSIC WAR
, comes an instant cult-classic:
40 BANDS/80 MINUTES!
On one night in Hollywood, over forty of Los Angeles' most amazing, experimental and eccentric bands join together with one daring goal: to present their uncompromising musical visions to the world in two minute blasts! Using shared equipment, each band has only one chance to get it right. No second takes allowed, everything captured live with multiple cameras and audiophile-quality sound! These bands fuse electronic, rock, dance, metal, jazz, noise and punk within one amazing community. This is your glimpse into the future of music… This is
40 BANDS/80 MINUTES!
A long distance run-around recorded in Paris, Long Beach and London. Field recordings by Chicagoan
John Kannenberg
were provided to
I Heart Lung
who treated them as another improvisor. Without listening to the recordings the group, joined by bassist
Anthony Shadduck
, mimiced, goaded and otherwise played with the pre-recorded sounds; somehow changing the static to the fluid. Recorded in Long Beach immediately following the return from their 2005 tour with
Castanets
and
Wooden Wand & the Vanishing Voice
.
Between 2003's
Ear Drung
and 2006's
Bloodshot Mama
,
Bizzart
became something altogether new. Once a spoken word artist turned M.C. turned abscratch expressionist
Bizzart
now occupies a circuit-bent performance art hip-hop space that none before him have occupied. A reformed poet who has lost faith in words alone,
Bizzart
has tucked
Alkalyne's
boom bap into bed with
Accident
's live noise comprovisations and together they dream of childhood and pray to a distant God. The album features contributions from a staggeringly diverse group of artists including
I Heart Lung
,
Awol One
,
Yarah Bravo
,
Justin Vollmar
and
Dulok Shaman
.
Castanets/I Heart Lung- split 12″ (AS002)
This limited edition 12″ features two unreleased cuts from Asthmatic Kitty recording artists Castanets and three all new pieces from Sounds Are Active's I Heart Lung. Set to a limited edtion run of 400 copies these rare marbled vinyl LP's will be going fast. And once they're gone, they're gone. Pressed and sold on the recent Oort Cloud BBQ/Sainthood Now tour which saw I Heart Lung touring along side Castanets and Wooden Wand & Vanishing Voice. One long-form Castanets composite along with a shorter piece make up Side A. I Heart Lung contributes one rapid-fire free jazz romp on "Speedboats For Breakfast", one ballad and the near 8-minute "If I Were A Young Man Now." Delicious droney stuff from all involved.

An ambitious compilation of noise, electronic, hip-hop, free jazz, prog and experimental music,

Strata- A Young Person's Guide To Experimental Music

is a primer for those of any age. Featuring rare, new and unreleased tracks from:

Create (!), Bizzart, Melk The G6-49, Lafcadio, Soul-Junk, MakeShift:Shelter, Manners For Husbands, Receptor Sight, Electric iLL

and others. Collected from the

Sounds Are Active

and

Joyful Noise

record labels,

Strata- A Young Person's Guide To Experimental Music

, presents both previously unreleased and downloadable tracks with album cuts.
I Heart Lung- Blood & Light (SAA1121)
Recorded in a single three hour session at a now abandoned rehearsal studio, Blood & Light is the result of long-simmering mutual admiration and a strange turn of events. The recording session that produced this album wasn't even supposed to have taken place. However after an aborted performance and with newfound time on their hands Blood & Light became. The sounds, textures and improvisations collected here were created without premeditation. Recorded with no overdubs or effects Blood & Light tells stories of subway trains, angels, gnomes, drones, miracles, hopes, glassy voices and fears.
Drones Are Forever
Size: Small Medium Large Extra Large ADD TO CART [T-SHIRT+MP3 $15.99] "Drones are forever," so quoeth Nels Cline as he finished a recording session for I Heart Lung's album Interoceans. This infinitely wearable t-shirt features a classic minimalist logo design from Seth Ferris on high quality American Apparel 50/50 shirts. Also included is an instant download of the previously unreleased track, "Premillennial [...]