40 BANDS/80 MINUTES! DVD (SAA1140)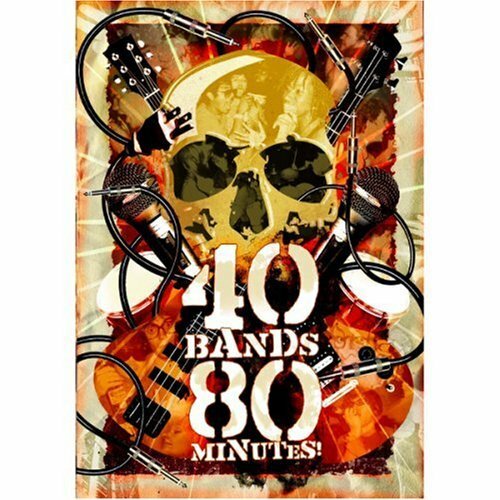 ADD TO CART [DVD+MP4 $12.99]
ADD TO CART [MP4 $7.99]
10 BANDS/20 MINUTES! FREE DOWNLOAD [MP4]
THE DOCUMENT OF THE NEW L.A. MUSIC SCENE!
One night. Forty bands. Two minutes to make their mark.
In the tradition of underground rock movies like THE DECLINE OF WESTERN CIVILIZATION and URGH! A MUSIC WAR, comes an instant cult-classic: 40 BANDS/80 MINUTES!
On one night in Hollywood, over forty of Los Angeles' most amazing, experimental and eccentric bands join together with one daring goal: to present their uncompromising musical visions to the world in two minute blasts! Using shared equipment, each band has only one chance to get it right. No second takes allowed, everything captured live with multiple cameras and audiophile-quality sound!
These bands fuse electronic, rock, dance, metal, jazz, noise and punk within one amazing community. This is your glimpse into the future of music…
This is 40 BANDS/80 MINUTES!
DVD Includes
* 40 BANDS/80 MINUTES!
* 10 BANDS/20 MINUTES! (Also available for free download!)
PLUS:
* Behind-the-scenes footage
* 2 Audio Commentaries
* Photo Gallery
* Karen Centerfold Short Film
* All Region Disc Play
Press
"Get your culture fix in a New York minute"- N.Y. Times
"Nonstop, high-energy and amazingly diverse."- The Detroit News
"I was blown away by the exhilarating collective energy the whole event projected, total diversity and whatevs styles with only a common denominator, 'Do Your Own Thing, and Care'."- 20 Jazz Funk Greats
"Top DVD, 2006″- Byron Coley & Thurston Moore, Bulltongue #26
"It's good, really good, in that bang your head silly for two minutes sort of way… Prepare yourself for a strange, diverse and a nonstop jolt of energy!"- John Doran, The Missoulian
"One night of the Los Angeles underground sucked into a hand-held, moving-picture machine"- L.A. Record
"A glimpse into L.A.'s experimental underground scene"- Pitchfork
"The ultimate in short-attention-span sonic theater"- Rich Kane, IE Weekly
"Covering everything from post- hip-hop to sludge metal to sheer insanity, it's a glimpse into the anything-goes mentality of L.A.'s experimental rock underground. Makes one wish more shows were this concise."- XLR8R Magazine
"A high-concept ear-shredding thrill ride… Highest recommendation."- Meanstreet Magazine
"The sheer range of talent is astonishing. From sandwich makers to noisemakers, laptops to a more traditional rock lineup, 40 Bands! gives a glimpse into a scene that will continue to explode"- CMJ
"40 Bands! is a scene report for L.A.'s current DIY underground in all its heterogeneous glory"- Pop Matters
"frenetic… the spirit of this über-independent effort can't be denied."- Ann Powers, L.A. Times
"Joyride of a documentary"- YAHOO! Movies
"bizarrely enjoyable"- L.A. CityBeat
"Not recommended for use with Ritalin"- Decibel Magazine
"A High Speed Rockumentary"- The Cleveland Plain Dealer