Chris Schlarb- Psychic Temple (SAA1160)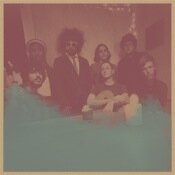 An astounding work of passion and patience over one thousand hours in the making, Long Beach musician/composer Chris Schlarb bestows his latest musical vision, Psychic Temple, onto the world. Known for his work as half of the hypnotic, jazz/drone duo, I Heart Lung, Schlarb's latest work expands wildly in new directions, incorporating wordless vocal choirs, string quartets and horn sections into his 29-member ensemble.
Inspired by the rhythmic pulse of microhouse, and the melodic vocabulary of jazz and folk music, Psychic Temple is a deeply considered meditation on beauty. Recording began in January of 2009 and over the next nineteen months Schlarb collaborated with twenty-eight musicians (including four bassists, three drummers and six vocalists) to build Psychic Temple.
It would not be an exaggeration to boast that Psychic Temple contains performances from some of today's finest musicians including Mick Rossi of the Philip Glass Ensemble, legendary Minutemen bassist Mike Watt, vocalists Julianna Barwick, DM Stith, Joel St. Julien (of ELLUL), Aaron Roche, trumpeter Kris Tiner, Brian Blade Fellowship pedal steel guitarist Dave Easley, Weird Weeds percussionist Nick Hennies, guitarist Danny Miller and drummer Tabor Allen (of Rare Grooves and The Widow Babies), bassists Steuart Liebig, C.J. Boyd and Anthony Shadduck, and Danny T. Levin and David Moyer on horns.
Credits
Composed, Arranged, Engineered, and Produced by Chris Schlarb
Recorded and Mixed at Sounds Are Active, Long Beach, CA.
from January 4th, 2009 – August 18th, 2010
Mastered by Roger Seibel at SAE Mastering
Layout and Design by Elis Im
Photography by Ian Souter
Additional Artwork by Danny Miller
Mix Consulting by Ronan Chris Murphy
Master Consulting by TW Walsh
Track Listing
01. I Can Live Forever If I Slowly Die 10:10
02. Dream State > Police State 9:15
03. Daughters of Ursa Major 5:20
04. White Dove In The Psychic Temple 8:25