Aaron Roche with Tim Hinck- plainspeak (SAA1158)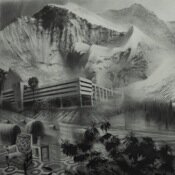 Aaron Roche and Tim Hinck have taken folk and modern classical music to another dimension entirely. The 4-D result is plainspeak, their new album recorded with members of the Chattanooga Symphony, Lambchop, The Cherry Blossoms and Silver Jews.
plainspeak beckons with with the familiar (fingerpicked acoustic guitar, Roche's pure voice) and rewards with the and avant garde (the reverb saturation of "Saraburi Provence", Hinck's arrangements for winds and strings on "A Weaker Vision"). Heretofore unexplored, Roche and Hinck apply George Martin's aesthetic to brilliant, minimalist folk.
Simply put, plainspeak is a masterpiece.
Credits
Produced by Aaron Roche, Tim Hinck and Konrad Snyder
Recorded by Konrad Snyder and Aaron Roche
Mastered by Paul Oldham
Track Listing
01. Saraburi Provence 06:21
02. An Instrument of Little Resonance 03:27
03. Plainspeak 02:18
04. A Weaker Vision 04:25
05. Fiction 02:28
06. Verses for the Madonna of Humility with the Temptation of Eve 04:57
07. Improvisation for Two Guitars 03:51
08. Giganova 02:42
09. Czar, Fiddle, Resolve 01:42
10. Will You Remember My Name 02:31
11. Muak Lek 01:00
Artists
Aaron Roche
Soul-Junk
Tim Hinck
Uncategorized